HARVARD'S APPROACH TO:
Scope 3 Greenhouse Gas Emissions (Value Chain)
What are Scope 3 Emissions?
The Greenhouse Gas Protocol classifies an organization's GHG emissions into three "scopes" for tracking and reporting:
Scope 1: Direct emissions from operations that are owned or controlled by an organization. At Harvard, Scope 1 emissions include our on-campus district energy systems, building-level fossil fuel infrastructure for heating/cooling (e.g., gas boilers), and our vehicle fleet.
Scope 2: Indirect emissions from the generation of purchased energy consumed by an organization. At Harvard, our Scope 2 emissions come from electricity we purchase from the regional electric grid.
Scope 3: Indirect "value chain" emissions across 15 broad categories related to an organization's upstream and downstream activities. For most organizations, including Harvard, Scope 3 emissions are far larger than Scope 1 and 2 emissions combined.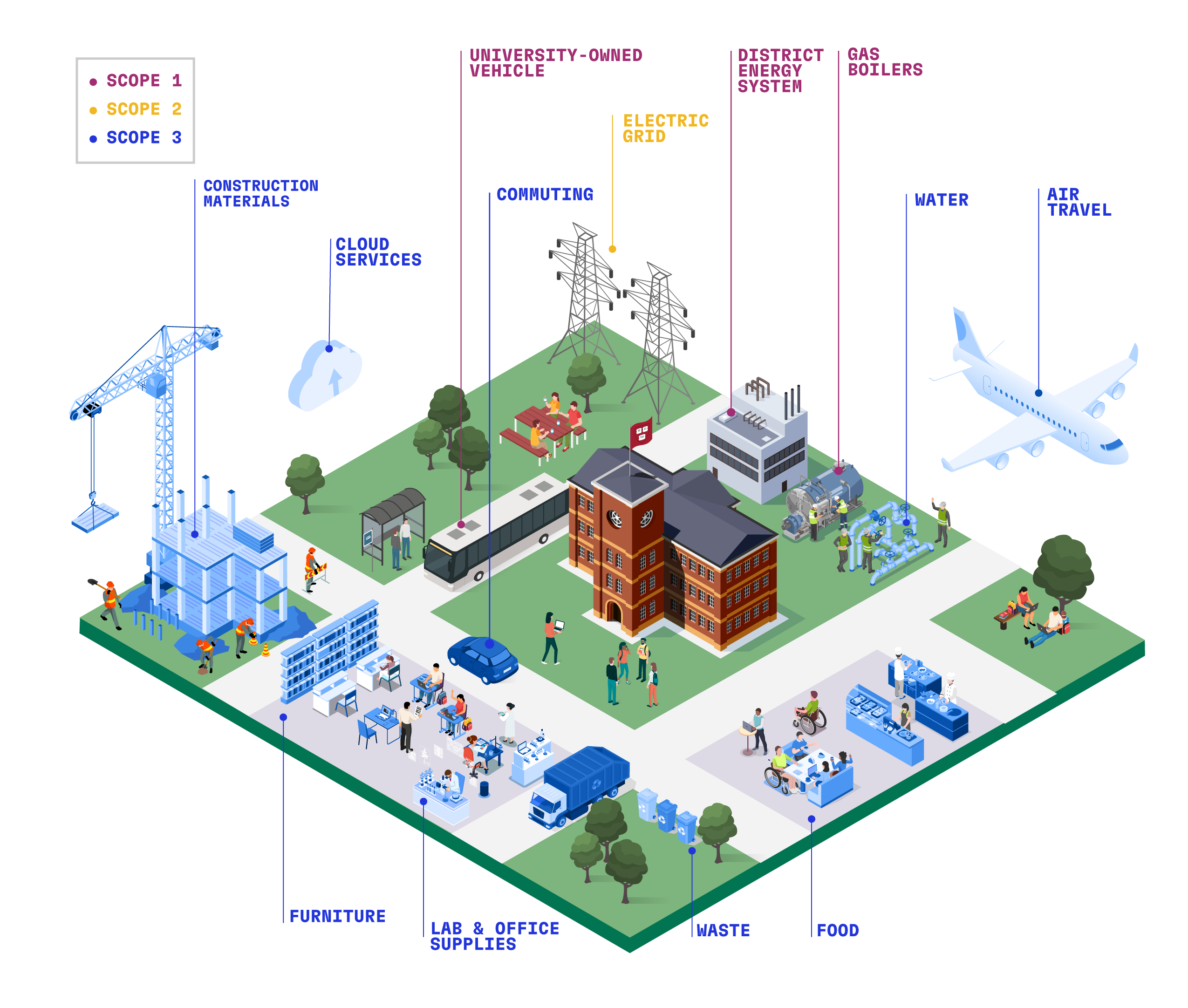 Mission: Whether it is food in our dining halls or materials we use to construct new buildings, Harvard aims to reduce Scope 3 emissions across priority categories, without introducing harms to health or equity.
---
How we set priorities to maximize impact
Lifecycle emissions across the value chain are broad, complex, and involve many actors and sources that are not always within Harvard's direct control, which makes it essential to prioritize action to maximize impact.
Harvard has identified five priority Scope 3 emissions categories: Construction, Food, Air Travel, Commuting, and Purchased Goods/Services. These priority categories were selected as areas where Harvard's purchasing and action will have the largest impact to reduce emissions and drive market transformation — not only on our campus, but around the world.
Reducing Scope 3 Emissions
Spotlight: Construction
How we determined Scope 3 priority areas:
As a first step, we analyzed a snapshot of the University's annual spending using the GHG Protocol's Scope 3 Evaluator Tool. The output was a high-level emissions footprint which signaled Scope 3 "hot spots" for further exploration.
Next, through the lens of five relevance criteria, we identified our current priority Scope 3 categories where our efforts and resources can have the most immediate impact at Harvard and beyond. Relevance criteria:

Magnitude at Harvard
Near-term reduction opportunities
Magnitude globally
Research strengths
Difficulty of decarbonization*

Today, we are utilizing refined datasets and category-specific methodologies to establish baselines, reduce emissions, and track progress in those priority categories.
*Decarbonization is the process of reducing and eliminating carbon emissions.
25% by 2030
Harvard's target for reducing food-related greenhouse gas emissions in the campus food supply, compared to a 2019 baseline.
20% by 2024
Harvard's target for reducing embodied carbon for new construction and major renovations, compared to conventional buildings.
5 priority areas
Harvard is prioritizing action on five priority Scope 3 categories: construction, food, air travel, commuting, and purchased goods/services.
Test, Pilot, Prove, Scale:
Reducing emissions within many of these categories will require innovation – so Harvard is committed to continuing to act as a living laboratory in order to pilot and prove scalable solutions that will not only help Harvard reduce its Scope 3 emissions but ideally help others, as well.
---
How we improve data to drive emissions reductions
Globally, Scope 3 is an emerging sustainability priority – but value chains are complex, and optimal emissions data does not exist for most procured goods and services. Despite these challenges, there are opportunities to take meaningful action while data quality improves throughout the value chain.
Our Solution: Our Scope 3 strategy includes four phases for emissions reduction, all of which require increasingly more robust and decision-relevant data: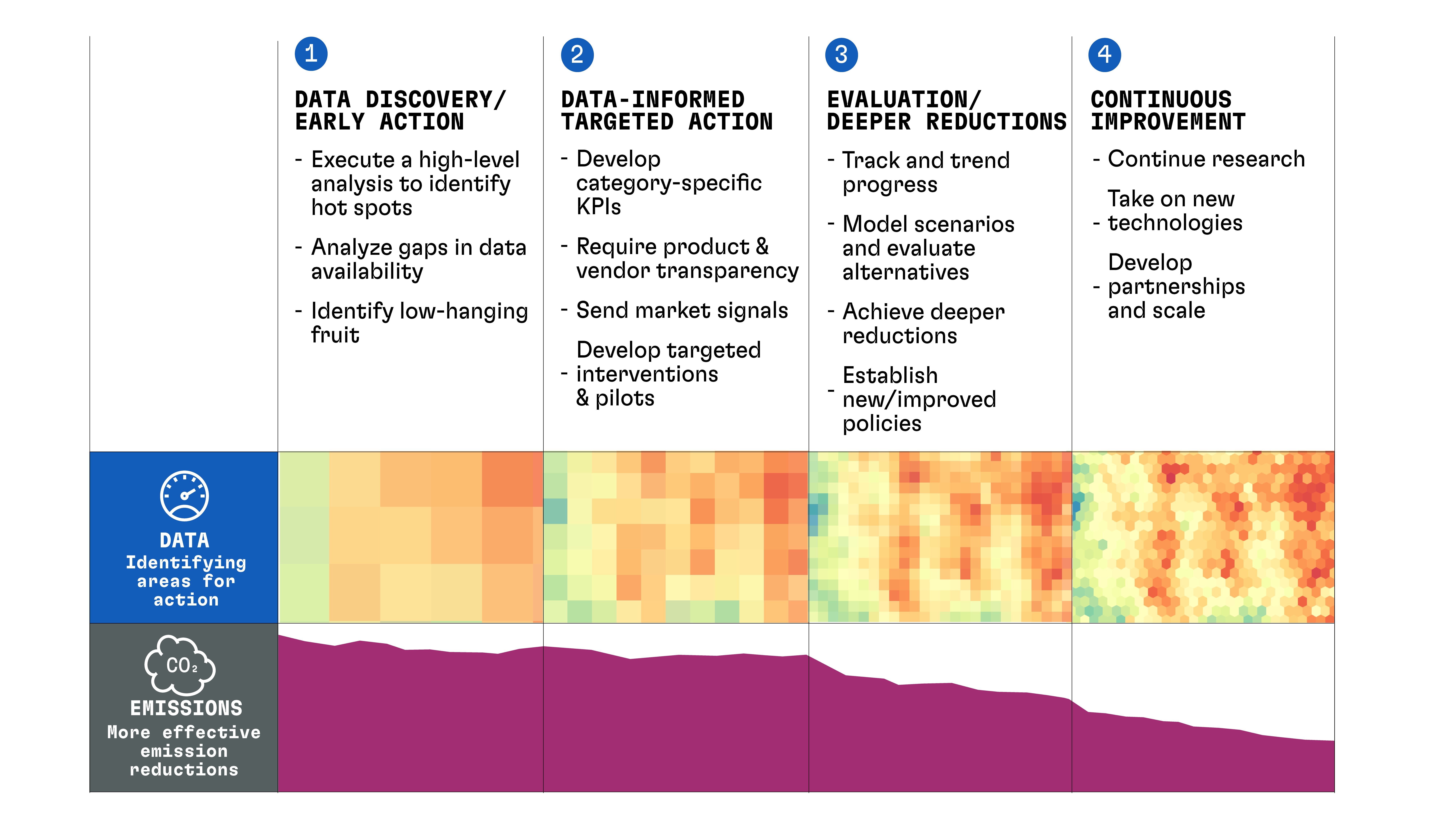 Data discovery/early action: We begin with a "hot spot" emissions analysis using high-level purchasing data, allowing us to act on "low-hanging fruit" and high-impact reduction opportunities.
Data-informed targeted action: We then create category-specific key performance indicators (KPIs) that enable us to: choose lower-emissions products and services where possible; implement behavior change interventions to reduce Scope 3 emissions; and track our progress. Meanwhile, we persistently demand product transparency, equity in the supply chain, and healthier materials from our suppliers – sending upstream market signals.
Evaluation/deeper reductions: Once we have better data in a specific category, we can create more targeted policies and processes to achieve even deeper emissions reductions.
Continuous improvement: As new knowledge, data, and technologies emerge, we will continue to reduce emissions and influence the market in ways that reduce emissions and advance equity and health.
Harvard asks its vendors and suppliers for emissions data whenever possible, and plans to work with other large organizations to send aligned market signals for more transparency and high-quality data. Harvard is also partnering with thought leaders like the World Resources Institute and our peers to improve Scope 3 emissions reporting standards that we and others follow. Meanwhile, we are not waiting to reduce emissions from Harvard's five priority categories.
---
How we leverage Harvard's influence to amplify climate, health, and equity benefits

Harvard is using its purchasing power to positively influence the sourcing, manufacturing, and distribution of the goods and services we buy.
When we purchase from businesses that prioritize sustainable and ethical practices, we can produce a positive ripple effect across the market.
To transform the market, Harvard and other organizations can create high demand for lower-emissions products and services that also advance equity and health at all stages of the value chain. This can positively impact upstream communities (e.g., asking vendors to remove toxic chemicals in building products) and our campus community (e.g., serving nutritious plant-forward meals in our dining halls).