As Charles Hua prepares to graduate from Harvard College this spring with a degree in statistics and mathematics, he is focused on continuing the important sustainability work he has persistently tackled since his sophomore year of high school. Hua came to Harvard in 2018 from his home city of Madison, Wisconsin and quickly immersed himself in sustainability programs and courses on campus. Hua is now ready to use his skills, experience, and passion to address the critical climate and energy issues facing our world.  

Read our Q&A with Charles Hua to learn about the ways he engaged with sustainability at Harvard and what his next steps are after graduating from the College.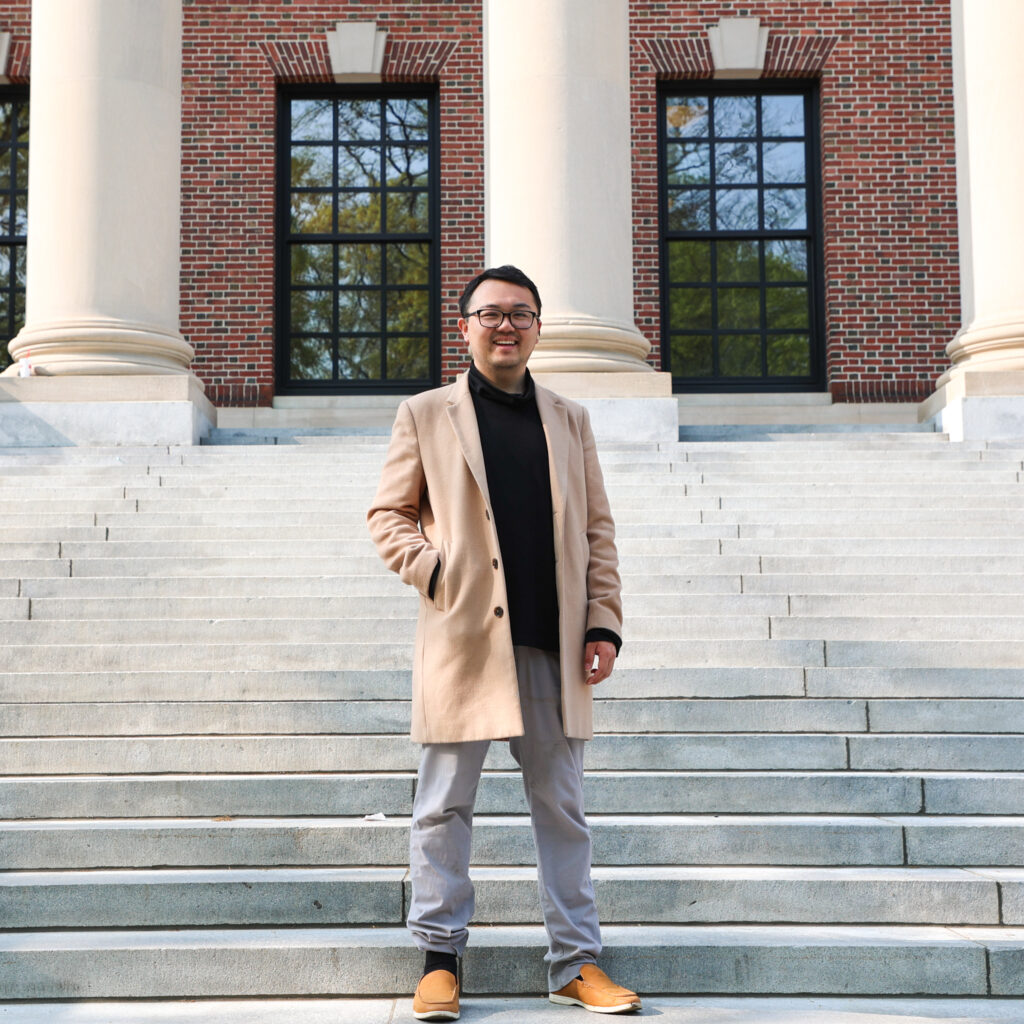 How did you first become interested in sustainability?
The very first time I learned about climate change was from my second-grade teacher, Mr. C. There were two lessons he shared with our class that have really stuck with me over the years. The first was the importance of taking initiative. The second was the importance of tackling climate change. I am deeply grateful to have had early exposure to climate change in the classroom.
It wasn't until my sophomore year of high school in Madison, Wisconsin that I actually applied these initial learnings. I was leading my school's environmental club at the time. I pitched a solar project to the school district but faced some initial barriers in getting the administration to pursue the project. I ended up rallying several other students, parents, and community members, and we raised $150,000 to install solar panels at our high school. With this group, I helped launch a campaign that successfully petitioned our school district to become the largest school district in the country at that time with a 100% renewable energy goal.
In college, my interest in sustainability really took off. I took as many courses on climate and environmental issues as I could. I started conducting research on climate and energy policy. I joined student clubs focused on sustainability. I regularly attended sustainability-focused speaker events on campus. I engaged with the Harvard Office for Sustainability on a range of projects and was ultimately appointed to serve on the Harvard Presidential Committee on Sustainability, where I helped advise on the development of Harvard's Sustainability Action Plan. It's been a wonderful journey thus far.
Is there a specific focus area within sustainability that most interests you? If so, why? (Climate, energy, food, waste, business/economics, etc.)
I'm particularly interested in climate and energy issues. I personally believe climate change is the greatest problem facing humanity and it is the responsibility of our generation to tackle this issue head-on. Energy is critical for powering our world. It affects everything we do – from what we eat to how we get around.
I'm interested in approaching climate, energy, and sustainability challenges with equity and justice centrally in mind. Successfully tackling the climate crisis means not only avoiding further harms to communities that have traditionally received underinvestment but also addressing historic injustices and creating opportunities for wealth-building and community engagement for these populations.
Frankly, I'm interested in all the topics you identified. Ultimately, these sectors and lenses cannot be separated entirely: policy shapes economics, which impacts technology. for example, decarbonizing transportation may involve accelerating electric vehicles and increasing energy use, while also balancing other resource waste and critical mineral supply chain concerns. I'm also very interested in corporate sustainability and international climate diplomacy issues.
Tell us about your involvement with the Council of Student Sustainability Leaders (CSSL). Do you have a favorite memory or experience from CSSL?
I joined CSSL during my sophomore year. It has been an absolutely wonderful experience. I have had the privilege of meeting students passionate about sustainability from across Harvard's undergraduate and graduate schools. There aren't many opportunities to do that. It is always refreshing to be in spaces where people are passionate about making the world a more sustainable—and ultimately better—place.
My favorite experience was probably when I helped gather student feedback on an initial draft of the Harvard Sustainability Action Plan. It was wonderful to hear students' perspectives on what Harvard could be doing to accelerate its climate and sustainability impact. The CSSL members shared excellent perspectives.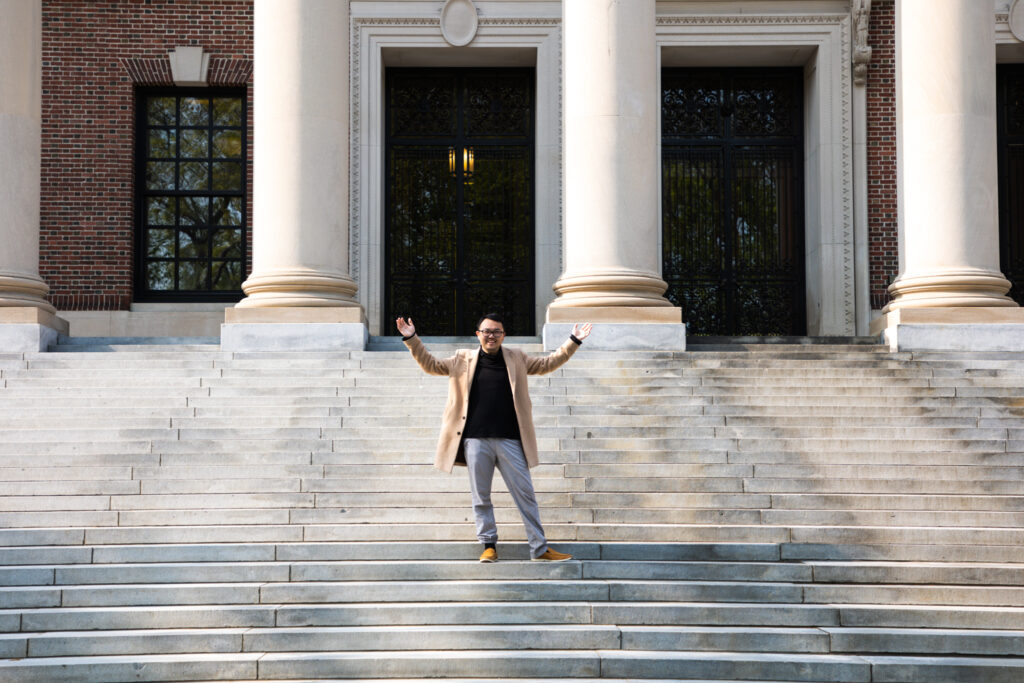 What was it like to serve as a student representative on Harvard's Presidential Committee on Sustainability and to serve an important role in the creation of the University's Sustainability Action Plan?
It was a tremendous honor to serve on the Harvard Presidential Committee on Sustainability. It is certainly a highlight (among many) of my time at Harvard. I had the privilege and responsibility of bringing a student perspective to the development of the Harvard Sustainability Action Plan, which I felt was especially important since students are the largest stakeholder group at Harvard and the de facto consumer of Harvard's primary product (i.e., knowledge and education). I focused on contributing my perspectives on how Harvard could scale its impact in research, teaching, and leadership development for students—I believe one of Harvard's greatest responsibilities from a climate and sustainability standpoint is to cultivate sustainability-minded students who become future leaders in their respective fields as alumni. I also cherished the opportunity to engage with faculty, administrators, staff, deans, students, and other members of the Harvard community to inform the development of the Sustainability Action Plan. I couldn't be more excited to celebrate its launch.
What did it feel like to be nominated by your peers as the Senior most likely to be President of the United States?
It was such a surprise! I really wasn't expecting it at all. It is an incredible honor, and I am appreciative of my peers and classmates for considering me for the nomination.
What are your next steps after graduation?
I will be working at Rewiring America, a nonprofit focused on accelerating building decarbonization through electrification and clean energy. I will be supporting efforts to help federal agencies and states develop and implement key policies and programs, including $9 billion in Inflation Reduction Act electrification and energy efficiency rebates. I will also continue to work on side projects focused on accelerating climate and environmental justice through a variety of vehicles, from photojournalism to policy efforts.
Do you plan to continue your work on sustainability in your career? How so?
Oh, absolutely. I feel strongly that this is the issue I intend to devote the rest of my professional and personal career to working on. As I mentioned before, I think climate change is the greatest problem facing humanity today. Unfortunately, it looks unlikely that this problem is going away anytime soon. We will still be experiencing climate impacts in the 2060s and 2070s, when I would theoretically retire. We will just have a different set of specific issues to contend with. In some sense, I feel deeply fortunate and grateful to have identified a problem and passion that I hope—and expect—will carry me for a long, long time.
What is one thing you would like to tell your peers (and/or incoming students) at Harvard about how to get involved in the sustainability space?
The most important message I would share to students is that everyone has an important role to play in this climate fight. Whether you are interested in the humanities, social sciences, or sciences, your skills and perspectives will be needed. Few issues are more interdisciplinary and demand more multifaceted perspectives than climate change. Within each of the levers of technology, policy, finance, law, culture, and other disciplines lies tremendous opportunities to tackle sustainability issues.
Lastly, I believe that the single most important action any individual can take to advance sustainability is to join a group or collective working on sustainability issues. Specifically, a motivated individual can rally other community members to push their school board to establish a goal of achieving 100% clean energy or advocate for their employer or city council to pass even more ambitious sustainability policies. Positive change is the result of coalitions and movements of people coming together, working together, and mobilizing together. I strongly believe that with concerted effort and persistent dedication, we can collectively achieve a lot of progress.